Home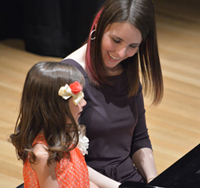 I have been studying the piano for 27 years, and have been teaching for 10 years. I currently live in Broomfield, CO where I offer private lessons out of my home.
I specialize in teaching beginning students to appreciate classical music, but I have taught advanced students as well. Lessons are individualized and are paced based on each student's individual needs and goals. I believe that it is important to teach music theory, note reading, technique and performance skills. I also encourage memorization and creativity, and provide opportunities for recitals and performances as often as possible.
Click here to schedule a Meet and Greet today!
Last Updated: 09/27/2020